8 Tips to Get Your Anxious Kid Into the Dentist Chair
Is your child having trouble overcoming the "fear factor" of dental visits? No worries —we have the tips and tricks to help you out.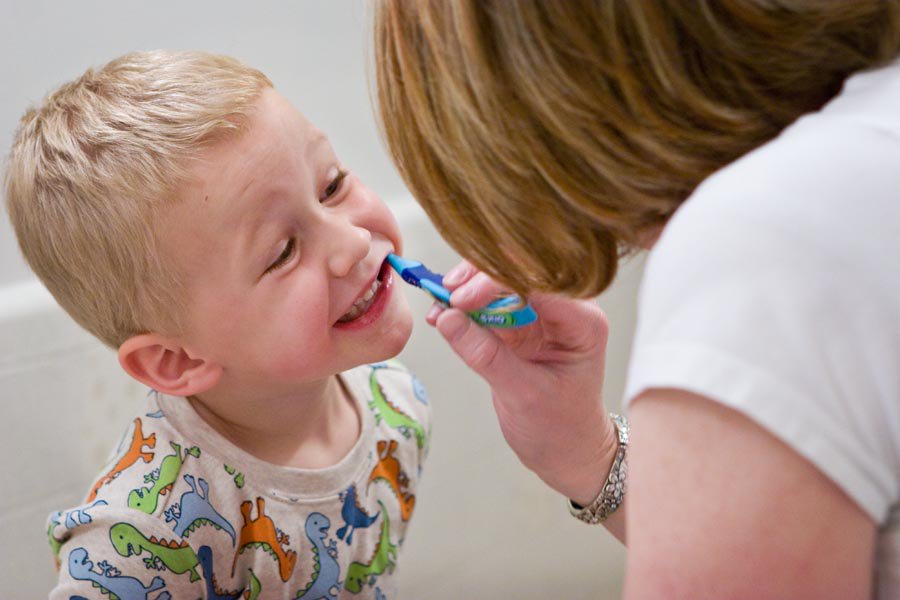 Photo by makelessnoise via Flickr.
For some kids, it only takes the word "dentist" to send them into a terrified frenzy. Obviously, you care about your child's oral health. But forcing a scared, fussy child into the dentist's chair can seem like a daunting task. If you're struggling with your child's dental phobia, here are a few tips to help them cope and even enjoy dental visits while they're young:
1. Start dental visits while they're young.
The American Academy of Pediatric Dentistry (AAPD) advises parents to take their child to the dentist as soon as the first tooth appears and no later than their first birthday. Taking your child to dental appointments while they're young is not only beneficial to their dental health in the long run, but also gets them to familiarize themselves with the dental office and environment. It helps them to feel comfortable with dental procedures and builds trust with the dentists themselves. Plus, you're able to educate them on the importance of oral care while they are young.
2. Play "Dentist" with them at home.
Before you take your child to their appointment, you can have a pretend dentist visit. Let your child role-play as they pretend to clean your teeth and vise versa. With a toothbrush, a chair, and a mirror, you can easily set up a pretend dental visit in your own home. You can walk them through what the procedures will be like at a real dental visit. You and your child can even practice pretend procedures like counting and cleaning teeth on each other or stuffed animals.
3. Read them dental storybooks for kids.
Another way to help eliminate fear and even get a child excited about going to the dentist are through picture books. Through easy-to-understand language and colorful illustrations, your child will have a better idea of what to expect at their dental visit. Scholastic has a variety of fun dentist story books, such as ABC Dentist: Healthy Teeth from A to Z and the Little Critter Series: Going to the Dentist.
3. Communicate, but keep it simple.
The last thing you want to do is tell your child about their dental appointment at the last minute, giving them no time to mentally prepare for it. Keep your child informed about their upcoming visit in advance, and continually remind as the appointment day approaches. Limit the amount of details that you share, and remind them that they can ask the dentist questions, too. Be sure to answer any questions they may have with straight-forward answers. "Avoid saying that everything will be fine, because if you child ends up needing a treatment, he might lose trust in both the dentist and you," says Joel H. Berg, D.D.S., M.S., Director of the Department of Dentistry at Seattle Children's Hospital.
4. Stick to positive words.
Avoid using words like "painful," "hurt," or "shots," when talking to them about their dental visit. Dental staff know what words work best when introducing dental procedures to children. You can ask them beforehand how to communicate using safe and comforting words. "My favorite thing to have parents tell their child is that we are going to check their smile and count their teeth -- that's it, nothing else," says Michael J. Hanna, D.M.D., a pediatric dentist and a national spokesperson of the AAPD. He recommends sticking to words like "clean, strong, healthy teeth" to make children excited instead of afraid of seeing the dentist.
5. Go to a pediatric dentistry.
When dealing with the dental health of children, seeing a pediatric dentist is your best option. These types of dentists have 2 to 3 years of specialty training following dental school, limiting their practice to treating children only. Working with a dental staff that are trained to work with a child's worldview is what lays the foundation for a positive experience, all the way from infants to adolescents. Plus, pediatric dentists are often affiliated with pediatricians and other child specialists, giving you access to a network of healthcare professionals.
6. Stay calm, even when they're not.
It's normal for a child not to want to have their mouth examined by a stranger. You can expect some fussing, whining, and wiggling as you get them to their dental appointment. Do your best to remain collected and cool to keep you child calm. And don't feel embarrassed even if their fit continues at the dentist office —all dentists have seen their fair share of temper tantrums from children who fear the dentist. Let the staff guide you on how to make your child comfortable during the procedures, whether it be giving them their favorite toy or holding their hand.
7. Use praise instead of bribery.
Bribery might send children the wrong message about visiting the dentist. Things like offering them candy if they don't fuss or cry may make them wonder why the dentist is bad enough to upset them. (Plus, sugary sweets isn't really a great option when you're trying teaching them about preventing cavities.) Instead, use positive reinforcement. When they display good behavior, commend them for it. Encouraging them with stickers or other goodies after the visit works as a great reward.
8. Teach them the importance of oral care.
Teaching your children the importance of oral hygiene is an investment in their health. While they're young, you can set expectations for what keeping healthy teeth looks like: regular dental visits, brushing twice a day, flossing, etc. Remind them that a dentist is a friendly doctor for their teeth, helping to keep their smiles beautiful and strong. This will not only help them feel more comfortable with the idea of regular dental visit, but also reinforce the importance of proper dental care for years to come.
When nothing seems to be working to ease your child's fear, there are a few other things you can do:
Tell the dentist about your child's fear.
Informing your dentist about your child's fear will make things smoother for the both of you. That way, they will be able to prepare themselves to handle your child's anxiety and put them at ease at their appointment.
Consider conscious sedation.
As safer drugs have been developed, more dental professionals and staff are being trained and certified to offer conscious sedation in their facilities. Using mild anti-anxiety drugs may be a helpful option for your child. During this procedure, the child is sedated and monitored by a certified staff member. This will allow them to have a comfortable procedure, and the sedation will wear off in the hours following their treatment.
Therapy may be a helpful option.
Sometimes therapy is necessary for helping your child overcome their dental anxiety. Receiving behavioral therapy or psychotherapy will help your child receive the dental treatment they need.
The best thing you can do for your child's oral health is to maintain it from the time they get their first teeth. On top of teaching them a healthy oral hygiene regimen, it's crucial that you and your child have access to affordable dental care. Even when they have trouble overcoming their dental anxiety, don't let them miss their regular checkups. It's important that you help them overcome their fear in order to receive the dental care they need.
Related Articles