3D Printing Body Parts and Teeth: What's Next?
For years, 3D printing has been a vital component in orthopedic and prosthetic care. As the technology continues to change, it's becoming a much more viable option for dentists. Learn how 3D printing is changing the landscape of dental care.
Custom Crowns and Bridges
The loss of a tooth, whether from an accident or a health issue, doesn't have to be a permanent condition. For decades, dentists have replaced missing teeth with implants, which they surgically place in a patient's upper or lower jaw. Once the titanium post is in place, the dentist attaches a crown or a bridge to the implant.
In the past, most of these replacement teeth were made of porcelain. Now, however, more and more are made with a 3D printer. Not only are these 3D printed teeth much easier to make, but they're also much faster to produce. When dealing with porcelain teeth, dentists often had to create a temporary bridge and wait days for the porcelain version to arrive. Now, many dentists can print a replacement tooth in as little as five minutes, right in the convenience of their own office.
Retainers and Mouthguards
Whether you have a teenager with freshly removed braces in need of a retainer or you play contact sports and need to protect your teeth with a mouthguard, 3D printing can help. Just a few short years ago, dentists and orthodontists typically used a gooey substance to create molds of their patients' mouths and teeth. If you misplaced your retainer or needed a new mouthguard, you'd need to visit your dentist again and create a new mold from scratch using the same slow, messy process.
With the advent of 3D printing, creating mouth molds is much cleaner and simpler. Dentists can rely on a light wand to scan the patient's mouth and teeth quickly. The 3D printer can then translate that information into a three-dimensional mold. Though it just takes a few minutes to print the mold, the finished product can last for quite awhile, unlike the older plaster casts.
Bacteria-Fighting Teeth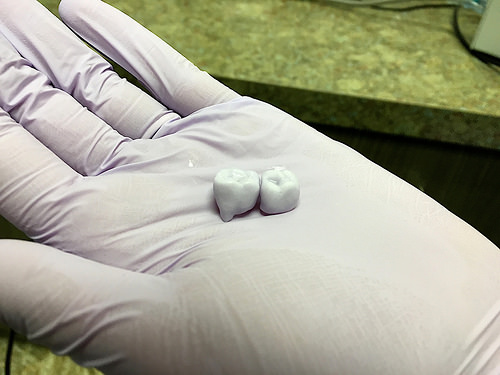 Image via Flickr by cogdogblog
Crowns and bridges created with a 3D printer are becoming more common, but some advanced 3D printing technology still lies on the horizon. In the Netherlands, a group of researchers is working to create a tooth that fights bacteria and related health problems. Made of microbial plastic, this tooth fights bacteria on contact — most notably the kind that causes tooth decay.
In addition to keeping patients healthy, a bacteria-resistant tooth like this can offer other advantages. In fact, a patient with one of these antimicrobial teeth might be able to maintain its sparkly white appearance for much longer than would be possible with implants or even natural teeth , since this forward-thinking tooth repels plaque and other damaging substances.
Whether you're in the market for a crown, a retainer, or a set of bacteria-fighting teeth, keeping your teeth healthy is critical. Protect your mouth and your finances with a dental care plan from Carefree Dental, which saves you up to 50 percent on everything from cleanings and exams to crowns and root canals.
Related Articles