Dental Savings Plan and Savings Provider
From exams and cleanings to more expensive procedures like dentures and braces – they're all included with the Carefree Dental Card.
Low monthly rates start at just $15.95 for single plans
Unlimited savings with no annual limit
One of the largest networks of providers nationwide
No paperwork or waiting—you can use it today
Month-to-month service with no contracts
Get your card at no cost today

Don't Wait for an Unexpected Dental Problem –
Get the Card That Works Instantly!
If you worry about big dental bills, or the high cost of unexpected dental work – you can relax. The Carefree Dental Card is now available nationwide.
With the Carefree Dental Card, you could be saving money on every single visit to the dentist. And when you consider that going to the dentist can easily cost $1,000 - $2,000 or more... the Carefree Dental Card is an amazing bargain – it starts at just $15.95 a month!
"Instead of paying $343.00 for my son Mitchell's two surface fillings, I only paid $119.00! I am so pleased with Carefree Dental!"
Say Goodbye to BIG Dental Bill Worries.
Make Going to the Dentist Carefree

Use It Tomorrow
With no waiting, you're free to start saving at the dentist as soon as you make your first payment starting at $15.95.

Hassle-Free
There's no paperwork to fill out and no claims to file. Go to the dentist whenever you need – and instantly pay a lot less!

Cancel Anytime
You don't have to sign any contracts. Your membership is month­-to-­month, and you can cancel anytime you want.
Get Unlimited Dental Savings for Your Entire Household
Looking for great care that won't break the bank? For just $19.95 a month, everyone in your household can use the same card — it's still just one low monthly rate.
Just think: with just one card you could save on cleanings for everyone in the household... braces for all the kids... plus most dental procedures you need.
"This is an incredible dental care plan, with awesome discount and savings. I love the opportunity to be able to get the awesome savings for me and my family!"
Get your card at no cost today
Act Now and Get $2,500.00 in Bonus Dental Benefit - Free!
Special Offer! When you activate your Carefree Dental Card right now, you'll also receive a bonus of $2,500.00 in accidental dental benefit at NO ADDITIONAL COST – courtesy of Carefree Dental.
This benefit provides a cash benefit for emergency dental treatments when an accident causes a covered dental injury to you or anyone living in your household. Up to $1,250.00 is paid per occurrence – up to $2,500.00 each year.
Get your card at no cost today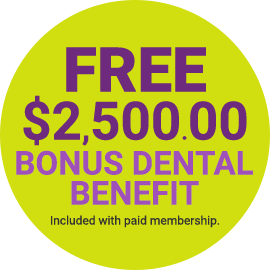 Vision & Prescriptions Benefits Included—Free!
Unlike dental insurance plans, Carefree Dental also gives you FREE vision & prescription benefits!
Vision
Save 10–60% on glasses, contacts, Lasik surgery, eye exams, and designer eyewear.
Prescription
Save 10–85% at over 65,000 participating pharmacies nationwide including CVS, Rite Aid, and Target.
Carefree Dental Blog
The Definitive Guide to Discount Dental Plans and Insurance
Going to the dentist can be expensive. In fact, the average cost of seeing a dentist has more tha ...
Read More »
Don't Let These Holiday Foods Hurt Your Teeth
It's no secret that many of the foods that come around during the holiday season ...
Read More »
Need an Affordable Dental Care Without Insurance? Here's How to Get One
Did you know that the cost of dental care has risen at a rate that's twice the av ...
Read More »
View More Blogs
Customer Reviews
I am so thankful for my Carefree Dental membership! I saved 50% on my son's extraction with Dr. Lamon Salyer.
My granddaughter went to Aspen Dental for a molar extraction. We would have paid $500, but saved $200 with my Carefree Dental card and only paid $300! I am very pleased with the savings.
I normally go to Walmart for my prescriptions and pay $100. With my Carefree Dental card I only paid $49!

© 2018 Carefree Dental. All rights reserved. Terms and conditions, features, support, pricing, and service options subject to change without notice.
Some services may be covered by qualified health plans under the Affordable Care Act (ACA).
This plan is NOT insurance. This is not a qualified health plan under the Affordable Care Act (ACA). This plan does not meet the minimum creditable coverage requirements under M.G.L. c. 111M and 956 CMR 5.00. This is not a Medicare prescription drug plan. The plan provides discounts at participating providers for services. The plan does not make payments directly to providers. The plan member is obligated to pay for all services but will receive a discount from participating providers. The range of discounts will vary depending on the type of provider and services. The licensed Discount Plan Organization is Coverdell & Company, Inc., at 8770 W. Bryn Mawr, Suite 1000, Chicago, IL 60631, 1-800-240-2973. Plan not available in Alaska, Louisiana, Rhode Island, Vermont and Washington. To view a listing of participating providers visit Find a Provider. You have the right to cancel this plan within 30 days after the effective date for a full refund. Such refund will be issued within 30 days of request.
The discount program provides access to the Aetna Dental Access® network. This network is administered by Aetna Life Insurance Company (ALIC). Neither ALIC nor any of its affiliates offers or administers the discount program. Neither ALIC nor any of its affiliates is an affiliate, agent, representative or employee of the discount program. Dental providers are independent contractors and not employees or agents of ALIC or its affiliates. ALIC does not provide dental care or treatment and is not responsible for outcomes.