The Best Mouthwash You Can Buy
Updated August 19, 2016
What is your nightly dental routine? Do you even know if you have one or is the motion so ingrained into your routine that it just comes naturally? Do you brush your teeth and then floss right before bed? Do you only brush your teeth? Do you use mouthwash at all? Different people have different routines both before bed and in the morning when it comes to their oral health. Some people brush and floss while others do not floss, but use mouthwash instead. Mouthwash is excellent oral health protection, and it can be a powerful supplement to your brushing and flossing routine. Mouthwashes come in many different formulas with ingredients that help prevent cavities, whiten your teeth, freshen your breath, and battle gingivitis. While some products do it all, others put a greater focus on particular problem areas. Check out these top picks to find the best mouthwash for your needs.
Listerine Cool Mint Antiseptic Mouthwash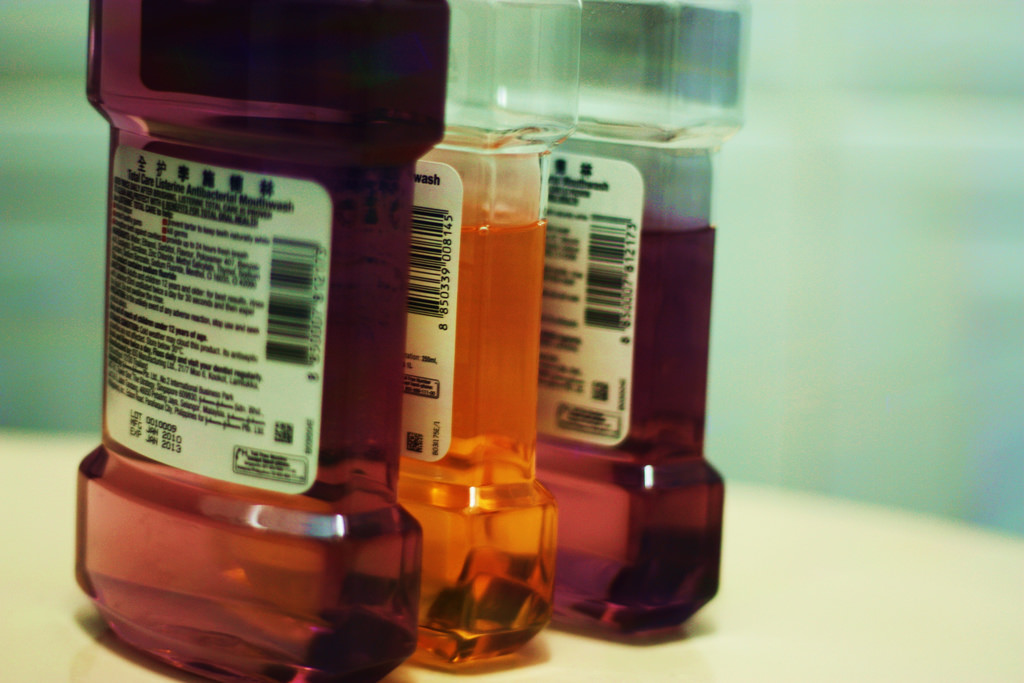 Image via Flickr by Charmzzy
Listerine is a leading brand for mouthwash and a common go-to for customers who want an established brand and well-known product. Listerine Cool Mint Antiseptic Mouthwash has an impressive 4.8 stars on Amazon, with outstanding reviews from users who praise its fresh flavor and effectiveness against gingivitis. Ingredients like methyl salicylate and thymol help kill gingivitis and plaque. The only downside to Listerine is its high alcohol content. This mouthwash has enough alcohol to cause some stinging and discomfort for sensitive users.
Rembrandt Deeply White
If you're looking for a mouthwash that does double duty as a tooth whitener, Rembrandt Deeply White is a standout choice. This product features peroxide, which gives it its whitening properties. It will help with surface discoloration from the cup of coffee you just downed as well as below-surface stains caused by a lifetime of tooth-yellowing activities. Another benefit of this mouthwash is that it's alcohol free, so if you're sensitive to this ingredient, Rembrandt is an effective pick that will give you minty fresh breath.
Scope Outlast
Scope Outlast is highly rated as a long-lasting mouthwash. It has serious staying power. This is the product you want if you feel like you hit a bit of a slump in the afternoon, but it's not convenient to do a quick rinse at midday. Scope will last all day so you don't have to worry about freshness in the middle of your busy agenda. This mouthwash features the ingredient cetylpyridinium chloride. This antiseptic battles the bacteria that causes bad breath so you can exhale a little easier in close quarters.
Scope boasts that its freshness lasts five times longer than just brushing. Unfortunately, this mouthwash doesn't contain fluoride to fight tooth decay. If cavities are a major issue for you, you might want to choose a different product. For the average user, however, a fluoride toothpaste can give you what you need for tooth protection, while Scope focuses on the freshness of your breath.
Crest Pro-Health Multi-Protection
In a laboratory test, Crest Pro-Health Multi-Protection killed 99 percent of the germs that cause gingivitis, bad breath, and plaque. Customers gave it a strong 4.4 stars on Amazon and highlighted its clean feeling and minty freshness as particular perks of the product. This mouthwash is a great all-around product with a well-rounded selection of benefits: It protects teeth against plaque, fights germs, and helps keep gingivitis at bay. If you're looking for a mouthwash that does it all, this is the product to start with.
Marvis Mouthwash Concentrate Strong Mint
Marvis probably isn't the first brand you think of when you're shopping for mouthwash, but this line of apothecary-strength products offers a refreshing jolt of mint that some users find superior to better-known picks. This mouthwash uses a concentrated formula so you'll get a serious taste of mint with each rinse. The longer you keep it in your mouth, the more the effect intensifies.
This mouthwash uses xylitol and propolis to fight bacteria and kill germs. Its minty freshness is its most appealing attribute, however, and can last for hours. This is a great pick if you're looking for an after-meal mouthwash that will really wipe out strong flavors that might linger post-lunch. It even comes in an attractive vintage-style bottle, so you'll love featuring it on your shelf.
Jason Healthy Mouth Cinnamon Clove
You probably don't associate a spice like clove with mouthwash, but Jason Healthy Mouth Cinnamon Clove takes a refreshingly natural approach to mouthwash all the way around: The product features cinnamon and clove oils, which lend its unique flavor while battling halitosis. It also uses grapefruit-seed extract to prevent tartar buildup. If you're sensitive to the burn that many other mouthwashes have, this is the perfect pick, because it has a gentle effect that nearly any user can handle.
Now that you know the best mouthwashes to prevent cavities, whiten teeth, and freshen your breath, are you going to start using mouthwash? Even if you are not comfortable with using mouthwash, it is vital to get into the routine of brushing and flossing twice a day. The best times to brush are in the mornings and right before bed. The most important time to brush is immediately after meals, but not everyone can do that if they are at a dinner party or a restaurant. That is where a travel size mouthwash could come in handy. You could stow it away in your purse or car and still have fresh breath and perfect oral health even while you are out and about with friends. No one would know and even if they did, it would show that you are a caring individual that likes to take care of what he or she has, especially those chompers. Heck, it might even cause your friends to start to use mouthwash after they eat which will improve their oral health as well.
The best way to keep your teeth in top shape is to follow a regular routine that includes brushing, flossing, and a powerful mouthwash. You should also visit your dentist regularly. A dental discount plan will help you keep up with it all without draining your wallet.
Related Articles