Tips for Brides to Get a White Wedding Day Smile
There are a variety of ways to get teeth whitened before the wedding. Here are some ways to whiten teeth professionally and at home to fit any bride's budget.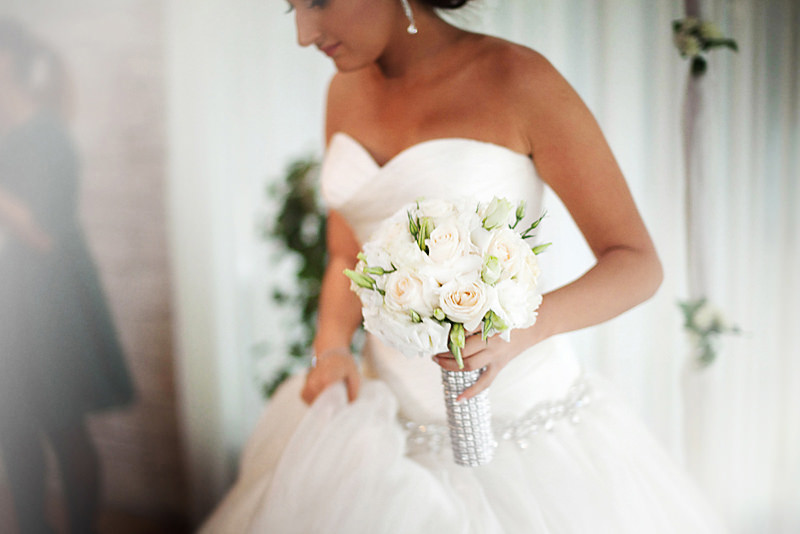 Photo by Eka Shoniya via Flickr.
Every last detail from the centerpieces to your manicured nails are planned out to make your special day come together perfectly. Of course, it can be tricky to get every little thing ready. As you prepare for your big day, you should make sure you take care of the crowning jewel of a blushing bride: your pearly white smile.
It's important to add teeth-whitening to your to-do list as your wedding day approaches. After all, you won't be able to contain your smile as you celebrate, so you should do your best to make it as bright as possible.
When you should whiten
Depending on the type of whitening treatment you use, the teeth whitening process will vary. However, it's crucial that you don't wait until the last minute to whiten your teeth. To get the best results, it will require a little planning to ensure that your teeth are treated properly and effectively. As soon as you set a wedding date, pick out what kind of whitening procedure you want to do so you can plan it into your schedule.
Different ways to whiten teeth:
Over-the-Counter Whitening Treatments
Rinses and toothpaste
Treatment length: about 4 weeks
If you're happy with the look of your teeth and you want to brighten them up just a bit, you can try using a whitening toothpaste and rinse as a part of your daily hygiene regimen. Although it takes about a month to really see an improvement on whiteness, you can start using it long before your wedding day to get your teeth whiter.
Whitening toothpaste uses mild abrasives to gently polish teeth and remove stains as you brush. Whitening mouthwash usually has peroxide as a bleaching agent to brighten your teeth.
Whitening Strips
Treatment length: 1-2 weeks
If you need a more intensive treatment, teeth whitening strips may be a better option for you. The ingredients on the plastic strips adhere to your teeth and penetrate the pores, giving them a deeper whitening treatment. They typically contain a bleaching agent like hydrogen peroxide to brighten teeth. Some treatments take only 3 days to whiten teeth whereas others take up to 2 weeks. Either way, it's best to whiten teeth a few weeks in advance to see how well it works for you. The effects last up to 3 years with proper maintenance.
Whitening Tray
Treatment Length: 1-2 weeks
To get the most dramatic over-the-counter treatment, a whitening tray is great option. It works by fitting a plastic tray filled with whitening gel and placing the tray onto your teeth. Usually, the tray should be left on the teeth for the instructed duration before removing it and rinsing teeth. You can also have this treatment done in a dentist office with custom trays and more effective gel for a more evenly brightened smile.
Professional Whitening Treatments
Custom Whitening Tray
Treatment Length: Varies
This process is similar to the OTC whitening tray treatment, except that it is more effective. At the dentist office, you'll have custom trays made to fit your teeth, giving you a more uniform coverage. The whitening gel is for professional use only, so it contains a higher concentration of hydrogen peroxide to whiten teeth. Your dentist will seat the tray on your teeth for about 30-60 minutes (sometimes longer depending on the treatment) before removing the tray and rinsing your teeth.
Laser Whitening
Treatment length: 90+ minutes per session
This process is another way to get your teeth several shades whiter. Laser whitening, also called power bleaching, is a process where the dentist applies concentrated gels directly to the teeth. The solution is then activated with heat or light by a laser, and compound will lift stains from your teeth. The dentist will leave the solution on for a few minutes before removing it and repeating the process again until you have the results you want. Often, your dentist will also give you take-home maintenance treatments to continue to whiten teeth further.
Consider the Risk Factors
"Whitening is very safe, but you should use it judiciously," says Hadie Rifai, DDS. "Overuse can cause tooth pain or sensitivity. You should consult your dentist before using prescription dental whitening products."
Depending on the state of your teeth, you may want to use a whitening treatment that has lighter concentrations of bleaching agent, especially if you already have sensitive teeth.
Other tips for a perfect wedding day smile:
Talk to you dentist first.
Even if you're using an over-the-counter treatment, you should absolutely consult your dentist before whitening your teeth. Everyone's teeth are different, so it's best to get a professional opinion on what will be best for you. If you have gum issues like periodontal disease, you may not be a good candidate for whitening treatments. Plus, a dentist can advise you whether or not your teeth will receive the treatments well.

Don't leave the groom out!
As the bride, it makes sense that you'd want to have the brightest smile possible, but don't forget to ask your husband-to-be about it, too! He may also want to whiten his teeth for the big day so you have pearly whites to match.

Look for the seal of approval.
Over the past 20 years, the American Dental Association (ADA) Council on Scientific Affairs has continually monitored the development of teeth whitening treatments and procedures to ensure that they are safe and effective. Before buying a treatment at the drugstore, make sure that you see an ADA Seal of Approval.

Avoid teeth-staining foods.
During the time leading up to your wedding day, you can keep your teeth white by avoiding certain foods and beverages that cause teeth stains. This includes:

Red wine

Coffee or tea

Deep colored berries or fruit (e.g. raspberries)

Soda

Soy sauce
While it's not necessary to completely abstain from these foods, you can simply be careful about how you consume them. Sipping drink through a straw can help eliminate contact with your teeth. Drinking water along side these foods and drinks can reduce the risk for stains, as well.
Drink more water.
Increasing your water consumption during the time leading up to your wedding and on your wedding day will help you attain a more beautiful smile. Drinking water throughout the day can water-down stain causing foods and keep your teeth whiter. On your wedding day, water will help keep your mouth and lips moistened, making it easier to smile and keeping your lipstick fresh all day long.

Keep up your dental regimen.
Whether or not you decide to use whitening treatments to enhance your smile, it's important to keep up the proper care for your teeth. That means keeping up with daily care, like brushing twice a day at least, rinsing, and flossing. Of course, you can feel really busy even months before your wedding day. Still, you shouldn't skip those crucial dental check-ups and regular cleanings if you want a healthy white smile on your wedding day.
Remember: the wedding day is your big day. As the star of the show, it's important that you make it a priority to get yourself ready for that spotlight as a beautiful blushing bride with a dashingly white smile.
Related Articles