Dental Emergencies: How You Can Prevent a Dental ER Trip
With dental ER visits on the rise, you need to take these preventative measures to keep your mouth healthy and away from the emergency room.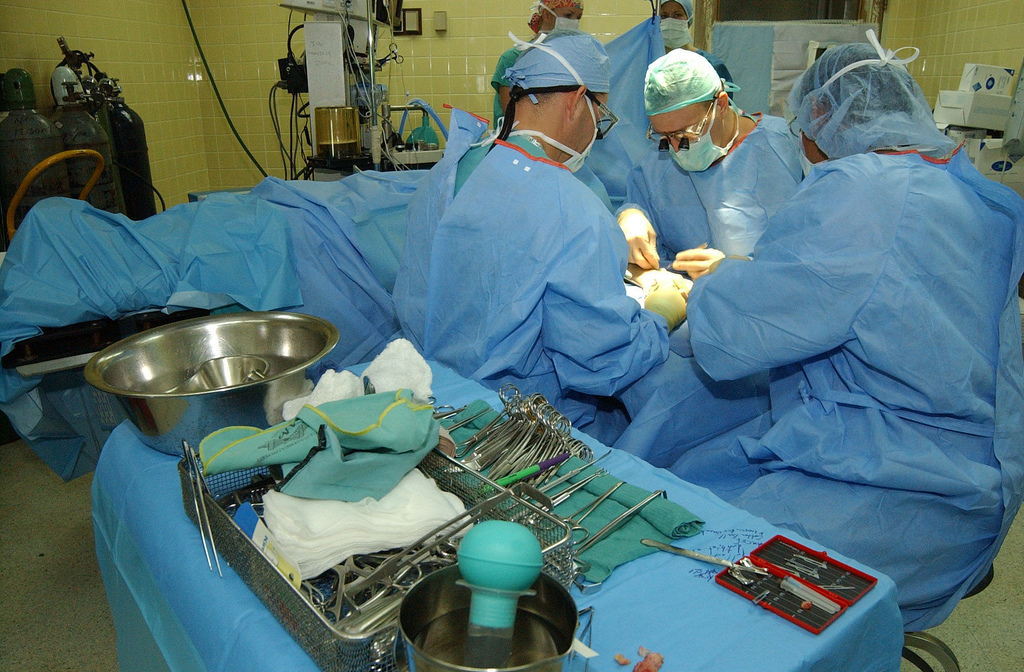 Photo by the U.S. Army via Flickr.
The last thing anyone wants to do is take a trip to the emergency room. Not only does it mean that something is going wrong physically, it's often implies that care was neglected in one form or another.
With health reform, you would think that ER visits overall would decrease or, at the very least, remain at a steady number. Unfortunately, this isn't the case when it comes to dental visits to the ER.
When you take a look at recent federal data from the American Dental Association, you'll find dental ER visits have doubled from 1.1 million in 2000 to 2.2 million in 2012.
That means there is 1 dental emergency visit to the ER every 15 seconds.
Many Americans are seeking help in the ER for long-delayed dental care. Usually, people are driven by pain to seek help from the ER. Oftentimes, people are unaware that untreated oral problems can grow to serious conditions very quickly. Some may even leave you in the ICU on a ventilator and feeding tube.
"People still die from their teeth in the U.S.," said the program director of oral and maxillofacial surgery at U of L, Dr. George Kushner. "This is something I deal with daily. And there is not a week that goes by that we don't have someone hospitalized."
Why are the number of Dental ER Visits Rising?
ADA officials and dentists across the country feel that the problem continues to grow despite healthcare reform.
The Affordable Care Act requires that health plans include dental services for children but not adults.
Because the ACA has not placed importance on access to affordable dental care, many Americans teeth are left without proper oral maintenance. Unfortunately, this means that people are forced to put the health of their teeth as a low priority.
Dr. Michael McCunniff, chairman of the University of Missouri-Kansas City Department of Public Health and Behavioral Science remarked that "...Dental care is something people put off to the very end [when money is tight], failing to realize it's crucial to overall health,"
Routine dental visits cost a third of what the average dental emergency visit costs, about $749. And according to Insuring Bright Futures, it's estimated that for every dollar spent on preventative care, somewhere between $8 and $50 could be saved on ER treatment. According to the law, ERs must see patients even if they can't pay for treatment. These emergencies alone cost the U.S. healthcare system $1.6 billion a year.
Is Anyone Working Towards a Solution for this Problem?
The ADA has created the Action for Dental Health Incentives in order to give dental education, preventative care, and treatments to those in need. They are a community-based movement that aims to improve dental hygiene in the U.S. through the following eight initiatives:
Emergency Room Referral
Without dental coverage, people won't seek dental care until the pain is so unbearable that it drives them to the ER. Still, most hospitals can only provide temporary care for oral issues. Across the nation, dentists are working with hospitals to get dental emergency patients from the ER and into the dental chair where they can receive the comprehensive treatment they need.
Community Dental Health Coordinators

Community Dental Health Coordinators (CDHCs) often work in remote rural areas and inner cities to address oral health barriers by providing navigation for those who often neglect dental care. Barriers like language, poverty, geography, culture, or lack of dental health understanding are handled by the CDHCs.
Fluoridation
The ADHI promotes the use of fluoride in toothpaste and fluoridated water to help reduce dental decay.
Medicaid Reform
Low-income adults receive the worst impact from Medicaid programs that fail to provide adequate dental care—both preventative and restorative. To combat this, the ADA advocates for increased dental health protections under Medicaid and to help more dentists work in community health centers and clinics.
Federally Qualified Health Centers
Federally Qualified Health Centers contract private-practice dentists to provide care to underserved populations. Patients receive quality care quickly and efficiently, giving them the preventative care to keep them out of the ER.
Nursing Home Programs
Dentists across the country are adopting local nursing homes to provide immediate and affordable healthcare to the elderly, a demographic that faces the greatest barriers to oral care,
Collaborations with other Health Professional and Organizations
The ADA promotes collaboration between dental and medical professionals to help physicians, nurses, and other practitioners recognize conditions needing dental treatment. With minimal training, medical professionals can help patients to have a better understanding of oral health maintenance.
Free Dental Care Events and Programs
The ADA is affiliated with 2 programs that are allowing greater access to dental care: Missions of Mercy and Give Kids a Smile.
Missions of Mercy sets up temporary field hospitals that provide free dental care to those in need. They have served more than 143,000 people nationwide, providing almost $50 million in free services.
The Give Kids A Smile program allows dentist all over the U.S. to unite their communities to provide care to underserved children. They volunteer their time and services to provide education and treatments to children.
What Can You Do to Prevent Dental Emergencies?
Find Free or Low-cost Dental Care
If you don't have dental insurance, the best way to prevent dental ER trips is to find opportunities to get free or low-cost dental care. Here a few places to find just that:
Dental School Clinics
Dental schools associated with the ADA have clinics that offer high-quality, low-cost dental treatments.

Free Dental Care Events
To find a free dental care event near you, you can find check out what's offered in your state on Dental Lifeline Network.


Discount Dental Plan
Discount dental plans are membership programs that offer discounted rates on dental services with a monthly membership fee. You can find out more about the DDP benefits offered by Carefree Dental here.
Maintain a Healthy Dental Regimen
Even if you have access to affordable dental care, it's still crucial that you continue to take care of your teeth on a daily basis. Here are a few things you can do to keep your teeth healthy and avoid the ER:
Brush daily —at least twice a day, don't skip!

Floss regularly, even if it seem like a waste of time. Better off doing it now than regretting it with a serious oral infection.

Use anti-cavity mouthwash if you're prone to cavities

Don't have too many sugary drinks or food. It's not good for your mouth or body, so limit your intake to keep your smile healthy.
Nobody wants to take a trip to the ER, especially for something as preventable as a tooth problem. To keep your teeth healthy, you should make sure that you have affordable access to dental care when you need it.
Related Articles