5 Ways to Cut Your Dental Bills in Half
Nearly two in every five American adults have received less dental care than they need or plan to delay treatment because they believe they simply can't afford it, according to an ORC International and Aspen Dental Management study. What's more, 80 percent of those adults know postponing or delaying their dental visits will likely cost them more money in the long run. You don't have to face the physical and financial agony of delayed dental treatment. Just follow these money-saving tips.
Ask About Discounts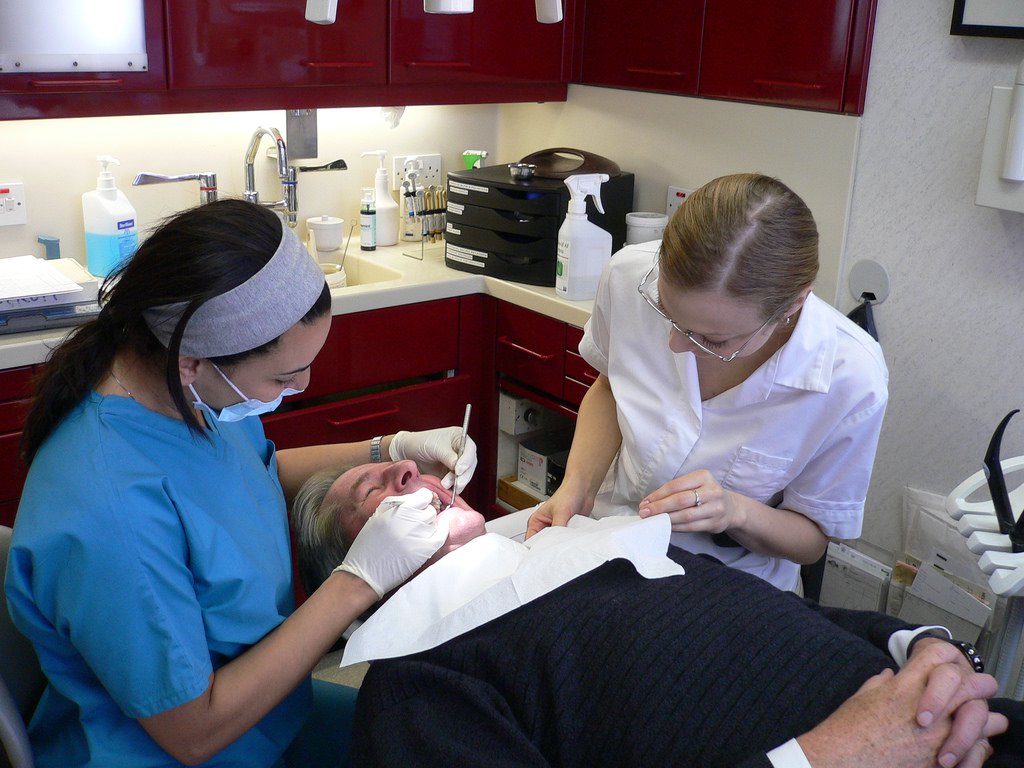 Image via Flickr by HerryLawford
Sometimes all you have to do to get those big savings is ask for them. Some dentists are sympathetic towards people facing financial hardship, and will offer discounts under certain circumstances. For others, offering discounts to keep customers happy simply makes good business sense. For example, your dentist might provide a discount for cash payments or for parents who have several children all needing checkups or procedures at the same time. Your dentist may also be more likely to offer a discount if you agree to an appointment on a quiet weekday rather than a busy weekend. Even if discounts aren't advertised, it never hurts to ask.
Look For New Patient Discount Offers
Many dental practices offer special deals for new patients to encourage repeat business. If you don't have a regular dentist or you're not particularly fussy about who you see, these specials might save you 50 percent or more. Free cleaning and tooth whitening services are really common, but if you do your homework you may even be able to find big savings on pricey procedures. If you're experiencing a lot of pain in your mouth, taking advantage of an offer like this can really pay off.
Join a Dental Discount Plan
Becoming part of a dental discount plan is a great way to slash your dental bills. Plans like Carefree Dental promise savings of up to 50 percent on most dental visits. You'll even find procedures discounted that aren't covered by many insurance plans.
Unlike insurance policies, a dental discount plan entitles you to unlimited savings with no annual limit so long as your subscription remains current. Since dental discount plans typically offer a month-to-month service, they're ideal for people who struggle to make large yearly payments. There are also no waiting periods to serve, so you won't be left without coverage when you need it most. With Carefree Dental, one card covers your entire household, so it's ideal for large families, especially those with teens who may need costly braces.
Go To a Dental School
Dental schools are educational institutions where dental students train to become licensed dentists. Many offer affordable or even free cleanings to people in their local area, so it's worth investigating if there's one in your neighborhood.
Don't worry about these students lacking the expertise to get the job done. They work under the supervision of accredited dentists, who ensure work is completed to the highest standard. The clean will usually take longer than it would at your local dentist's practice, as students are trained to inspect every inch of your mouth carefully, but the savings and thorough treatment can make it worth taking extra time out.
Take Preventative Dental Care Seriously
The easiest way to minimize your risk of needing a costly dental procedure is to take preventative measures. Most dentists suggest brushing twice a day for two minutes, but some say it's a good idea to step this up to three minutes: one and a half minutes for the top teeth and another one and a half minutes for the bottom ones. Playing a pop song or setting a timer are good ways to get used to brushing your teeth for this recommended time period.
Also don't skimp on flossing. Taking time to floss at least once a day will remove plaque from the places your toothbrush can't reach.
Maintaining a healthy diet is also important. Steer clear of sugary foods, which can lead to tooth decay, and acidic ones, which can wear away your teeth's protective enamel. Also, limit snacking because it could be hours before you clean your teeth and remove food stuck to your teeth and gums.
Regular dental checkups are the final piece of the preventative dental care puzzle. Make sure you see your dentist every six months. He or she can detect minor problems before they become major costly ones.
Next time you consider putting off that dental checkup because money's a little tight, just remember these tips. Your dental visit could cost a lot less than you think.
Related Articles