Dental Payment Plans: What Are They and How Can They Help
If you're struggling with the costs of dental work, you're not alone. Half of U.S. adults say they put off or skipped some sort of health care or dental care in the past year because of the cost. Fortunately, there are alternatives like dental payment plans. Learn more about how they work and whether they're a good choice for you.
What Are Dental Payment Plans?
Dental payment plans are financing options for dental work. Instead of paying your bill and costs upfront, patients can make their dental payments over time. Depending on the dentist, different payment plans are available.
Where Can You Get a Dental Payment Plan?
Your dentist's office usually provides dental payment plans. Dentists offer these plans to attract more customers looking for expensive dental work. However, not all dentists offer payment plans. They may only accept insurance or full payment upfront.
The Cost of Dental Treatment Without Insurance
Many people pay out of pocket for dental work, and an estimated 76.5 million adults don't have dental insurance at all. Unfortunately, you could spend a small fortune on dental work without it.
Here are some of the average costs of dental work:
Oral exam and cleaning

: up to $200

Oral X-rays

: $300 on up

Root canal

: up to $2,700

Tooth extraction

: between $75 and $4,000, depending on damage and need for anesthesia

Dental implants

: between $1,750 and $8,270 a tooth

Braces

: $5,500 on up to $10,000

Dentures

: $1400 to $2800
Potential Downsides to Dental Payment Plans
Despite the convenience of not having to pay everything upfront with a dental payment plan, there are a few downsides to consider.
Interest Rates
Sometimes dental plans come with 0% interest to sweeten the offer. Yet it's not uncommon to pay interest rates on your repayments. In other situations, your interest rate may skyrocket with one late payment. Make sure you understand all of the terms of your payment plan in advance.
Credit Check
If you struggle with poor credit, you may face challenges securing a payment plan. Some companies waive credit checks. If you arrange repayment directly with your dentist, they may also offer instant approval.
Ongoing Payments
Ongoing payments may ease the burden of paying for all of your dental work upfront. But, you should also consider whether or not you can handle the ongoing costs. It's a commitment to deal with those payments and their impact on your monthly budget.
Alternative Ways to Lower Your Dental Bill
Whether you have dental insurance or need a payment plan, there are ways to lower your dental bills.
1. Focus on Prevention
Some dental work is unavoidable, but taking good care of your teeth helps reduce the need for costly work. Brush and floss regularly, wear a night guard if you grind your teeth, and avoid sugary, acidic foods that may damage your enamel.
2. Schedule Regular Check-Ups and Cleanings
Don't skip regular dental check-ups and cleanings to avoid the costs. The ongoing cleanings may prevent cavities and help stay on top of any issues. For example, your dentist may notice an issue with an old crown or your gums. Addressing complex dental problems as quickly as possible keeps your long-term costs low.
3. Shop Around for Dental Services
Finding a dentist you trust and are comfortable with is important. It's also crucial to find a dentist that fits your budget. Shop around for services to find the best deal for you. Just remember to look for online reviews or ask around for recommendations to make sure the dentist is reputable.
4. Get a Discount Dental Plan
Dental savings plans work differently than dental payment plans. They offer a discount on services with specific providers. Once you find a provider who accepts the plan, you show your membership card to receive the discount.
Before you purchase a discount dental plan, look through their online directory. Make sure there are dentists in your area who accept the plan for the dental work you need.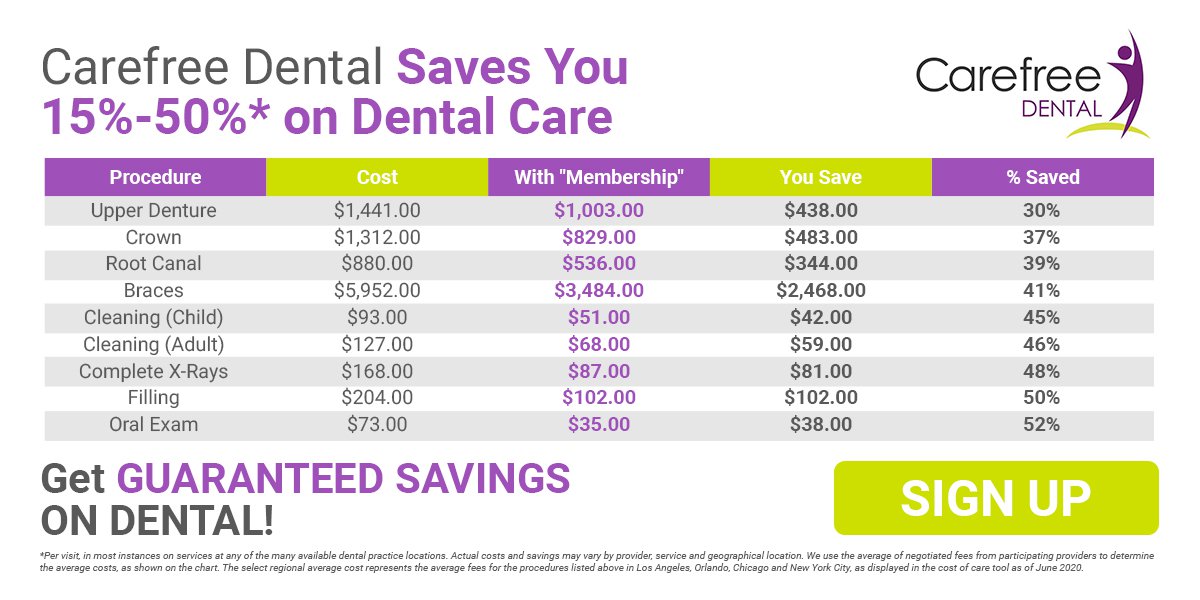 5. Consider a Dental Loan
Dental loans are loans specifically used for dental work. In reality, they're unsecured personal loans. Unsecured means there is no collateral, like a car, to repossess if you don't pay the loan. Due to the risks of the loan provider, dental loans usually come with higher interest rates.
6. Dental School
Students at dental colleges and hygiene schools need patients to practice their skills. In exchange, patients get a reduced cost that's far less expensive than your dentist's office. Look for a dental college or program nearby at the American Dental Association site.
7. Go Abroad
Medical tourism is popular in countries like Mexico, Thailand, Costa Rica, the Philippines, and Malaysia, to name a few. Dental tourism is also a booming industry. If your procedure is costly enough, it could make sense to take care of it abroad and enjoy some extra time at the destination.
Make sure you do extensive research on international dental care options. Verify credentials, search client reviews on sites like WhatClinic.com and get a second opinion from your local dentist.
Get Cheaper Dental Care with Carefree Dental
Everyone deserves a smile they're proud to show off without the skyrocketing expense. That's why Carefree Dental offers its members 15-50%* off their dental bill at participating providers per visit in most instances.
For only $15.95/month for individuals and $19.95/month for families, this can mean great discounts on your dental treatments, including emergency procedures.
Get the best deal in dental and sign up for Carefree Dental!
*Actual costs and savings vary by provider, service, and geographical area.
The Carefree Dental blog is not meant to be a substitute for professional medical advice, diagnosis, or treatment. The text and pictures within the content are intended for information purposes only. Readers should consult with a licensed dentist or healthcare professional before seeking treatment.
The Carefree Dental Card is not insurance and Carefree Dental is not an insurance provider.
Related Articles