6 Best Travel Products for Oral Health and Teeth Cleaning
Updated August 17, 2016
Do you do a lot of traveling for either work or leisure? Do you have good oral hygiene when you are traveling? What dental accessories do you bring with you when you travel? Good oral hygiene and oral health come from a daily routine in which you brush and floss daily regardless of where you are.
Whether you travel for work or leisure, it's important to keep up your oral health routine on the go. Before you hit the open road or hop on a plane again, add some top-of-the-line dental care products to your suitcase. Get to know six of the best travel products for oral health and teeth cleaning.
Electric Toothbrush
Brushing your teeth at least twice a day is critical to your dental health, so you won't want to leave home without a toothbrush. Electric toothbrushes tend to do a better job than manual brushes at removing plaque and cleaning between your teeth, but a full-sized brush might be too large and bulky for your suitcase. Instead, pack a portable electric version like the Violife Slim Sonic Toothbrush, which is small in size and relies on AAA batteries.
If you are going to be gone for an extended amount of time, make sure you change the batteries in your electric toothbrush or bring additional batteries. The last thing you want to have happen is to realize your batteries are dead right in the middle of a brushing. The other important factor to remember if you are going to bring an electric toothbrush is to change your wand or head before you go on vacation. You do not want to get to the hotel just to realize your toothbrush bristles are frayed, and you are unable to remove that sticky caramel from your teeth.
Travel Toothpaste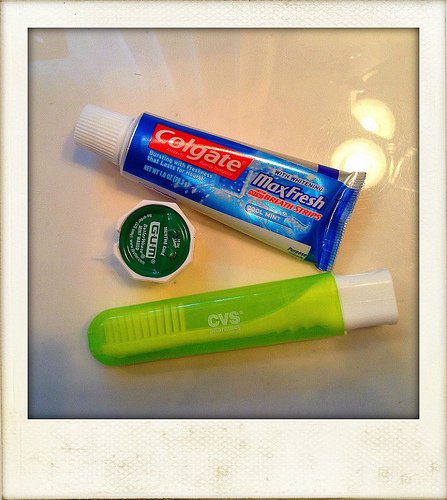 Image via Flickr by e.c. johnson
Travel toothpaste and a travel toothbrush are the way to go when you are traveling. You do not need to bring your full sized items when you are on the go. By traveling with a lighter toiletries bag, not only are you saving money if you do not have to check a bag, but you are also helping the environment by using less and smaller items. Maybe downgrade to smaller items once you return home as well.
Like a standard electric toothbrush, a regular tube of toothpaste takes up far too much real estate in your travel bag. Rather than packing a large tube, go for a travel tube of toothpaste. If you have any flights in your future, make sure the toothpaste totals less than three ounces, so you can carry it on without hassle.
Disposable Toothbrush
Sometimes you either forget to pack your toothbrush, or you decide you will just pick up a toothbrush while on vacation. This could work great for you as toothbrushes are very cheap to pick up and you don't have to worry about keeping the head clean while you are traveling to and from.
Whether you're short on space or you just love convenience, sometimes foregoing the travel toothbrush and toothpaste altogether is the best course of action. That doesn't mean you should forget about taking care of your teeth, though. On the contrary, a disposable toothbrush like the Colgate Wisp enables you to brush with a single-use device. Since they're so compact, Wisps even fit in your purse, backpack, or pocket, so you can take and use them nearly anywhere.
Dental Floss
Along with brushing, regular flossing is important no matter where you are in the world. Instead of toting around a bulky container of dental floss, consider taking along small, compact flossers instead. These devices are small and discreet, so you can use them for flossing on a daily basis and removing food from in between your teeth in a pinch. You could stow the individual flossers in your purse, toiletries bag, or carry-on bag and only bring the amount you will use based on the duration of your stay.
Another great item to bring with you is a plaque remover called Stim-U-Dent. This tool is great as it is very compact and light. You could throw it in your purse, toiletries bag, or carry-on and use it nightly. It is a wooden flosser that removes plaque by getting in between your teeth like floss does. It is easier to hold and is disposable as well. Stim-U-Dent products are shaped to clean between your teeth, and they are gentle on your gums too since they are made of a soft, pliable wood.
Mini Mouthrinse
No matter if you're on a work trip or a romantic getaway, you'll want to smell your best. Similar to mouthwash, a mouth rinse makes your breath minty fresh. A mouth rinse also takes the process one step further by killing smelly bacteria and lowering acid levels in your mouth. Don't leave home without a travel-sized bottle of mouth rinse for a minty swish anytime.
Whitening Strips
Being on the road is no excuse for taking a break from your whitening routine. Whether you can fit in a full one-hour tooth whitening session or just a quick five-minute touchup, don't forget to pack your Crest Whitestrips in your travel bag.
When you're constantly on the go, maintaining a healthy smile is easy as long as you pack the right gear. Regardless of how often you're on the road, though, don't forget to schedule a regular checkup with your dentist. A Carefree Dental plan makes dentist visits easy, allowing you to save 50 percent on a cleaning while giving yourself peace of mind.
Related Articles